There are a lot of CBD brands that you can find in the market. How do you know which one to purchase from? This review on the brand Secret Nature will give you an idea of what their products are and how well this brand fairs with other brands.
Key Takeaway: Is Secret Nature Reputable?
Rating: 8 out of 10
The brand Secret Nature is based in California. It was launched in 2017. It produces organic products from hemp sourced locally in Oregon and Colorado. They use environmentally responsible production methods. All of its goods have been tested by an independent laboratory to guarantee quality and potency.
Aside from that, there isn't much of a downside for this brand, aside from its return policy and the company's lack of transparency on its website. Regardless, this brand distinguishes itself through its commitment to providing different handcrafted organic items.
Pros & Cons
Secret Nature excels in many aspects of the business because of its experience. However, It still has areas where it can improve. Here are some of the good and bad points of this brand you should be aware of:
Pros
Lots of options for hemp strains;
Uses premium hemp extract;
Uses a reliable extraction method; and
Generous in giving discounts.
Cons
The website is not transparent;
Products show incomplete lab results; and
The returns are only for unopened products.
1. Top-Rated Product: CBD Flower (Frosted Kush)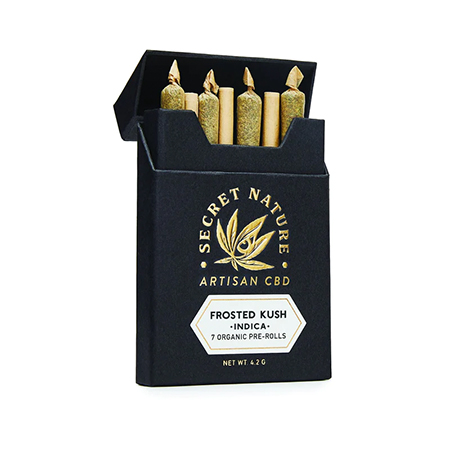 Secret Nature's CBD Flower in Frosted Kush is one of its most popular products. It's an Indica hemp strain that has high levels of CBD and is ideal for those who are looking for relief from anxiety and stress. The flower is covered in trichomes and has a pungent aroma of sweet creams and fresh berries. It's like tasting your favorite sweet dessert.
2. Runner-Up: Forbidden Fruit CBD Vape Cartridges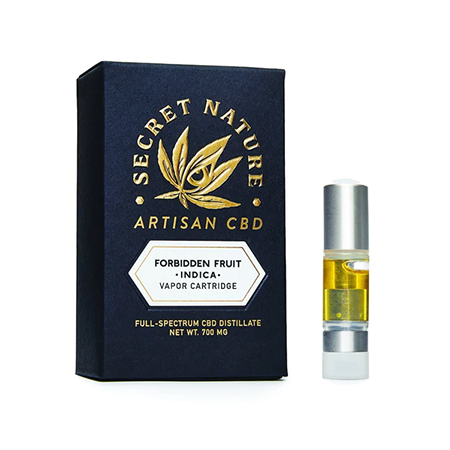 This product provides a quick and convenient way to take CBD into your system. The Forbidden Fruit flavor is a favorite among customers, as it has a sweet and exotic taste of Cherry Pie as well as Tangie. It's an Indica strain that is ideal for relaxation. Each cartridge contains 436mg of CBD and 442mg of total cannabinoids.
Other Products Of Secret Nature
Aside from CBD flowers and vapes, there are more products in its lineup. Here are some of the bestsellers offered by Secret Nature:
CBD Pre-Rolls (Secret OG)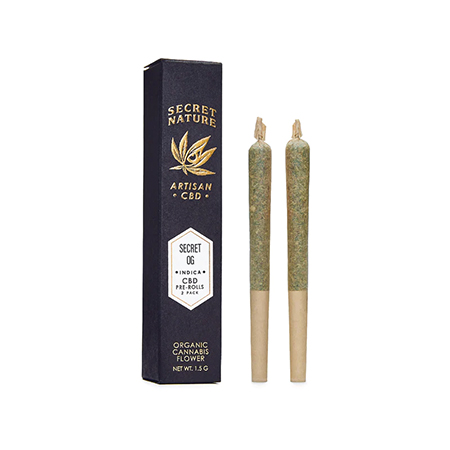 The Secret OG CBD Pre-Rolls contain 0.6 grams of CBD flower that's been trimmed and rolled in organic hemp paper. This Indica strain has the class smell of gas, pine, and earth. The result is a smooth and relaxing smoke that's perfect for when you need to unwind.
CBN Dream Capsule
The Dream Capsule contains both CBN and CBD. It's designed to help you get a good night's sleep, as the CBN promotes relaxation while the CBD helps to reduce anxiety. Each bottle contains an equal ratio of 150mg CBN and CBD. It's one of the few Secret Nature products that contain no THC.
CBD Live Resin Gel Capsules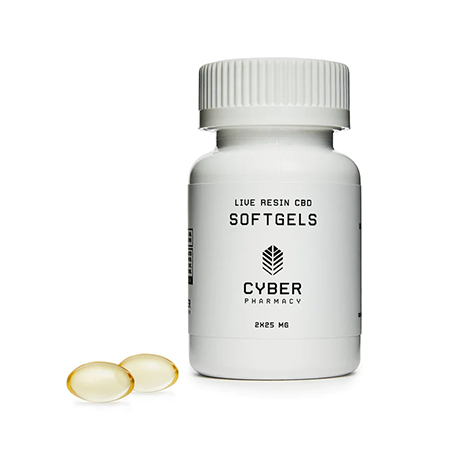 The CBD Live Resin contains 786mg of full-spectrum CBD that's perfect for those who need an energy boost. It has two strain options: Sour Kush for relaxation and Papaya Nights for mood-boosting. The result is a powerful product that's sure to give you the pick-me-up you need. It's a versatile product that can be used in different ways. Some people use it by dabbing while others by vaporizing. Others prefer using it with their CBD flowers for smoking.
Organic Hemp Flower Drops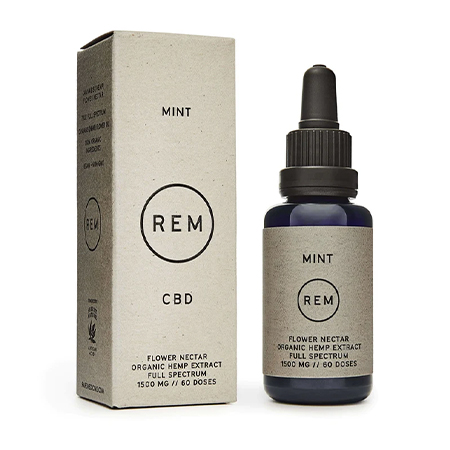 This is the product for you if you feel that the CBD Live Resin is too overwhelming for you. Each bottle contains 1250mg of CBD, as well as MCT oil and organic terpenes. It is available in a 30mL bottle. This product can be used by itself or mixed into food or drinks. It is also good for beginners because of its controllable dosage.
Will Secret Nature Deliver to My Place?
The company caters to all 50 US states and also internationally. The shipping is free when you reach $75 on your order total. It also has discounts once you avail of the subscription. The company allots 24-48 hour processing before shipping.
For international shipping, the rates are based on the weighted total of the order and the drop-off location. The orders are shipped via USPS or FedEx, which can take 7 to 10 days to deliver.
Does Secret Nature Publish Third-Party Testing? Why Is This Important?
Yes, Secret Nature posts third-party testing on their website. This is important because it helps to ensure that the products are free of contaminants and effective. The company uses an independent laboratory to test its products for quality and potency.
Does the Company Have Discounts to Offer?
Yes, there are discounts available for Secret Nature. You can get a discount if you subscribe to the company's newsletter, and you can also get free shipping on orders over $75.
The company also offers discount codes from time to time. For example, as of writing, you can are given 30% off when you use the discount code of 30FLOWER when checking out. It's better to check the website frequently to see if there are any new codes available.
Price Comparison: Are Secret Nature Products Worth It?
The prices of Secret Nature products are pretty average. The company has a lot of product options, so you're sure to find something that fits your budget.
It is best to order their products only from their company website. Aside from getting legit and brand new products, the website is complete with information about each product.
Which Product Is Best For Me?
The best product for you relies on what you need and what you like. Vapes are a good option if you want to feel the full effects of CBD quickly. Tinctures are ideal if you're looking for something easy to use and discreet. For those who want something they can use topically, balms, salves, and lotions are a great choice.
No matter which product you choose, Secret Nature is sure to provide you with a high-quality CBD experience.
Best Alternative Brands
If you're not satisfied with Secret Nature or if you're looking for other options, here are some alternative brands to check out:
Cheef Botanicals
Cheef Botanicals is one of the brands that are popular for its CBD vape products. Its cartridges are also made with organic and non-GMO ingredients. Its products are of high quality and contain 100% broad-spectrum hemp.
Cannaflower
If you're looking for another brand that has a large assortment of products, Cannaflower is a good option. It's known for producing high-quality CBD flowers with multiple strain options. Cannaflower is also an affordable option.
CBD Lion
CBD Lion is a good alternative if you're looking for a different set of product lines. This brand offers a wide range of products, including tinctures, edibles, topicals, bath products, and even pet products. It also has three formula options: full-spectrum, broad-spectrum, and isolate.
Commonly Asked Questions on CBD Oil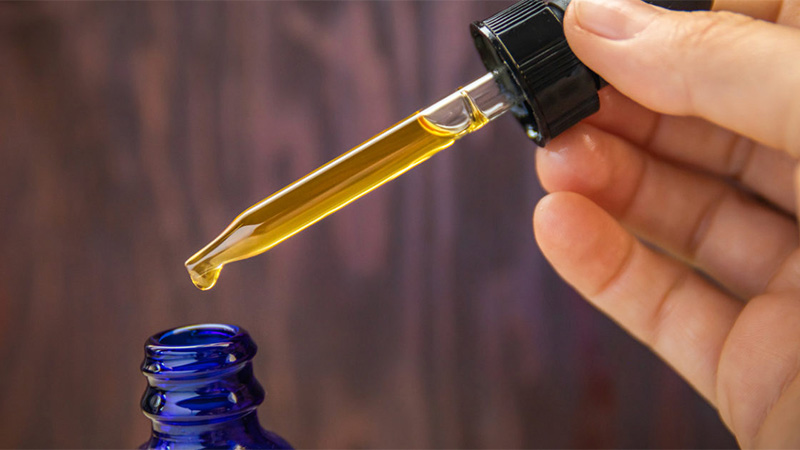 If you're still a beginner, learning about CBD might be too overwhelming at first since there's a lot of scientific information that comes with it. Here are some commonly asked questions on CBD to help you get started.
1. Will CBD get me a euphoric high?
No, CBD does not give euphoric high effects. It is because it is non-psychoactive. CBD can counteract the psychoactive effects of THC. THC is the cannabinoid in cannabis that's responsible for the "high" feeling. CBD is often used to counteract the side effects of THC, such as anxiety and paranoia.
2. What are the side effects associated with CBD?
CBD is generally considered to be safe and well-tolerated by most people. The most common side effects of CBD are fatigue, diarrhea, and changes in appetite. It's also important to note that CBD can interact with other medications you're taking. If you're concerned about the safety of CBD, it's best to consult with your healthcare provider before using any CBD products.
Related post: Why CBD Oil is Not Working for You?
3. What benefits can you get from CBD Oil?
CBD has a long list of potential benefits that include reducing anxiety, relieving pain, and treating seizures. CBD is also known for its anti-inflammatory and anti-cancer properties. Some people also use CBD to help with sleep, stress, and depression. Although more research is needed, CBD shows promise as a potential treatment for a variety of conditions.
Related post: CBD Oil for Weight Loss: Top Brands Reviewed
4. How should CBD be taken?
There are various ways to take CBD, including oils, tinctures, capsules, edibles, and topicals. How it should be taken will rely on your personal preferences and the reason why you're taking it. For example, if you're taking CBD for localized pain relief, you might want to use a topical such as a cream or lotion. If you're taking CBD for anxiety, you might prefer oil or tincture so that you can control the dose.
Capsules and edibles are also popular methods of taking CBD since they're easy to take and don't require any preparation. Once you decide to try a new method of intake, it is best to start with the lowest dose. You can gradually increase the dose as needed.
5. Can my pets take CBD?
Yes, your pets can take CBD. CBD can help treat different conditions that your pets are experiencing. These may include anxiety, pain, and seizures. If your pet is starting with a new treatment, it's important to start with a low dose and increase as needed. Consulting the veterinarian is also a safe way to give the right dose of CBD to your pets.
Final Review: Is Secret Nature Worth Ordering From?
In conclusion, we believe that Secret Nature is a good brand worth checking out. Its products use only organic and locally sourced ingredients, and its customer service is excellent. While the website lacks transparency, the company does publish third-party testing to ensure that its products are effective and free of contaminants. Secret Nature is worth a try, especially if you only want CBD products that have high quality.
Have you tried any products from Secret Nature? What was your experience? Let us know in the comments below.